Sporting Souvenirs take many forms, like jerseys, equipment, and concession items, but only one immortalizes the event, the players, and the stats.
The 2023 NCAA Division I Track and Field Outdoor Championship Program is filled with all the information a patron could ask for. Event schedule, team rosters, and information about the host institution and complex.
Learfield and the NCAA trusted Integ with executing the offset print, finishing, and mailing of the program to locations around the country.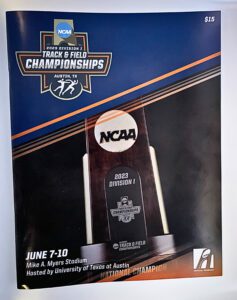 We are honored to work with a brand as memorable as NCAA and are proud of the end result of this project.
Design Details
Given that the program will travel with the patron throughout the day and most likely encounter elements and conditions that are unfair, we made sure the paper, ink, and construction would last. Here are a few details about the piece:
Offset Print – We printed the program on our Heidelberg Speed Master in Austin, Texas.
Paper – Anthem Gloss Book #60
Saddle Stitched – Using our Mueller Martini Presto Stitcher
After printing of the book was completed, our team:
Shipped to New York, Indianapolis, and Tennessee.
Used our internal trucks to deliver in Austin.