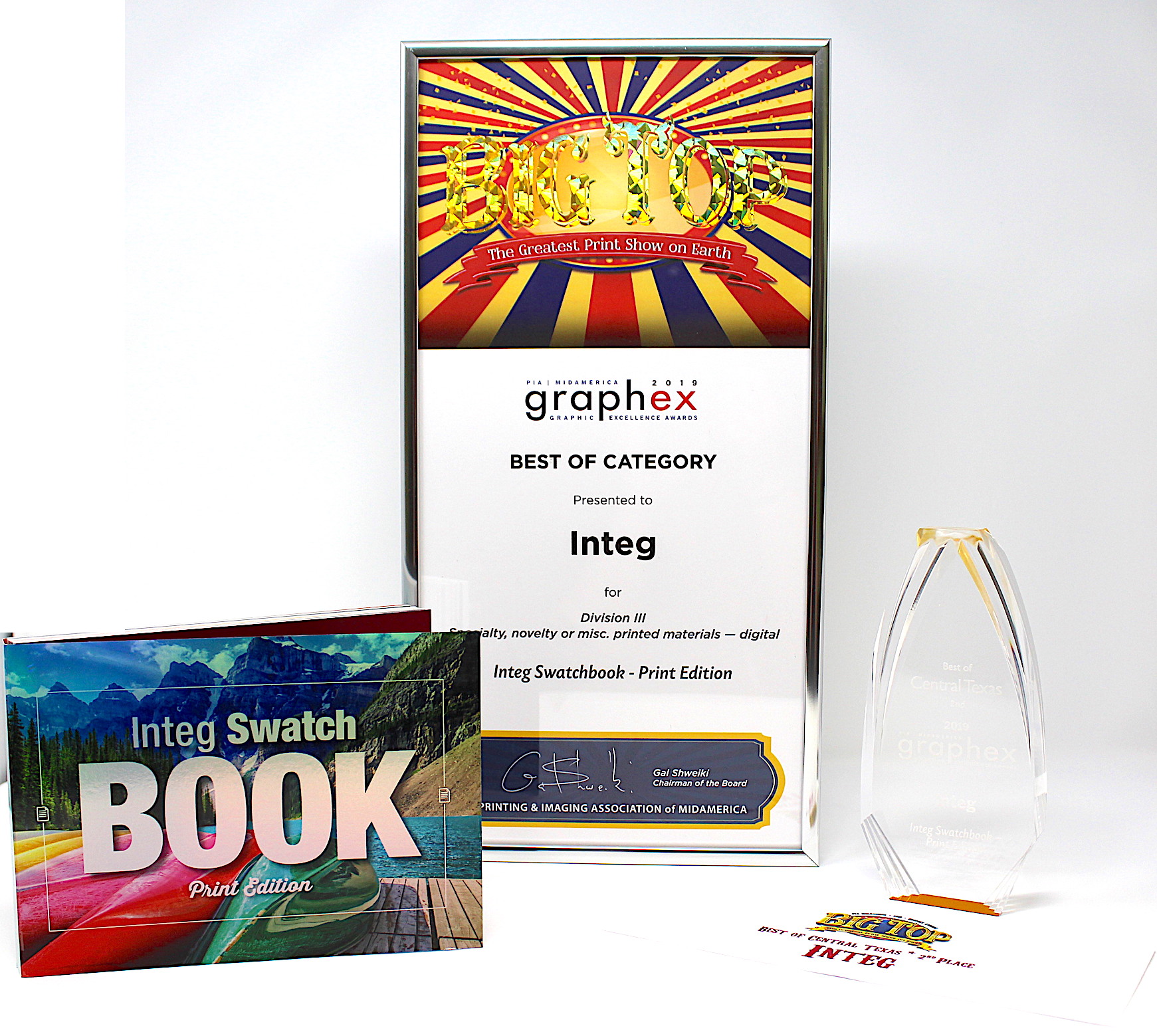 The 2019 PIA MidAmerica Graphex Award Gala took place on April 11th, 2019. Integ won Best of Category Graphex Awards for the following pieces:
Ridgewood Catering Presentation Folder
Ridgewood Country Club designed a new 9×12 pocket presentation folder for their catering menu. They were looking for an elegant look with details and designs that stood out and reflected the class of the catering offered at Ridgewood. After discussing with the clients what elements they felt would best achieve their desired goals, Integ implemented several features. Some of these included a 1/4″ expansion spine, right and left pockets with a business card die cut on the left side, and registered deboss wrapped on the folder. For the 2019 Graphex Awards, Integ won Best of Category in Presentation folders – offset (1,2 or 3 colors).
2019 Integ Christmas Party Invitation with Santa Beard
Integ created their Christmas Invitation as a variable data piece in which the first and last name were printed on the name-tag. While this piece showcased Integ's digital printing capabilities, it more importantly created social engagement with clients. After they brainstormed on how to use print materials to engage on social media, they made several creative printing decisions.  Integ chose to print this piece 4-color with 6 hits of clear ink from the Indigo. Additionally, they printed the snowflakes over the red on the outside and on the inside the diagonal stripes in clear to add dimension and elegance. For the 2019 Graphex Awards, Integ won Best of Category in Integrated Marketing.
Integ Swatchbook
Integ's swatchbook is a compilation of GPA's specialty digital stocks to use a creative starter piece for clients. In order to provide clients with a simple process for creating unique pieces, they needed to make a tool that would showcase Integ's expansive capabilities. Because of their vast printing capabilities, they decided to use the Chicago screw. This allows clients to fan out their stock options, compare them easily , making the selection process much easier. After seeing great success, Integ reports that this has been a wonderful tool for Integ's clients to help spark creativity in them while showcasing Integ's capabilities. For the 2019 Graphex Awards, Integ won Best of Category in Specialty, novelty or misc. printed materials – digital.


Texas A&M Science Be Curious Recruiting Folder
"In brainstorming the design for Texas A&M College of Science recruiting piece, the clients wanted a shell that could market the overall college while giving them the flexibility to customize it with departmental information. The folder concept allowed them to do this, and the traditional size kept it from getting lost in the stack. The idea behind the half cover kept the design on trend, with the goal that students and parents would place this at the top of their stack of recruiting materials. We used icons and a color art effect on images to appeal to a younger audience, which makes this piece unique and stand out from the competition. The quality paperweight means it could be transported to recruiting events without fear of falling apart, and less likely that it would immediately be discarded by prospective students. The folder insert at the back allows for customization of specific information for targeted students both at the Dean's Office and within each of their departments." – Texas A&M Science Department
For the 2019 Graphex Awards, Integ won Best of Category in Presentation folders – offset (4 or more colors).
Goodman Comfort Bridget Trifold
Goodman Comfort was rolling out a new product. After discussing what goals they had for their print promotional item, they settled on a goal. Goodman  wanted their customers to recognize it's uniqueness with a brochure. Integ met with the client to discuss embellishments that would really catch a consumer's eye. After some brainstorming, they decided to use a combination of soft touch, raised UV, and spot gloss UV to give this piece a look and feel that was truly one of a kind. For the 2019 Graphex Awards, Integ won Best of Category in Broadsides – offset (4 or more colors).
Integ is home to many marketing solutions from creative design or marketing strategy, mailing and fulfillment, wide format printing, promotional products and of course our bread and butter, craftsman printing solution. From digital to offset, we are available for small and large runs, intricate details and embellishments- we deliver. You have a story to tell…Integ delivers. Print. Mail. Promo. Wide Format. Graphics.