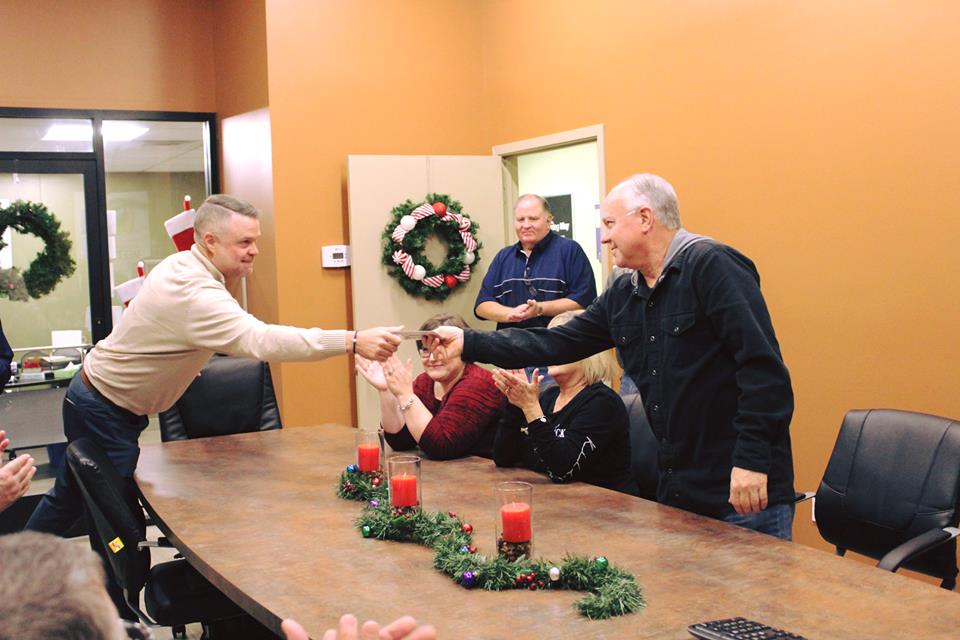 "The Integ Way" is a mindset that focuses on the client experience through organizational excellence here at Integ. The Committee recognized Wes Jordan, our Prepress Manager, as going above and beyond this past year that resulted in exceeding the expectations of our clients, employees, owners, and community. Wes oversees the department that prepares each file to ensure each detail is up to clients' standards when it hits the press. His commitment to detail is key to the success of our clients' projects and the excellence of each piece.
"Wes is one that Integ can count on to always seek the best solution for the client. He is always searching for a better way or a better process and, to me, that's what the Integ Way is all about," says Integ Vice President, Phil Roach.
In a candid interview with Wes, we got to know him a little more.
When did you start working at Integ and what position?
"I started working at Integ August of 2010 when MailMax (now known as Integ) acquired Central Texas Printing.  I had worked at CTP as Prepress Manager since January 2000."
"Prior to commercial printing employment, I worked many years in Graphic Design, I was Graphic Design Supervisor for the City of San Diego's Public Relations Department, I ran the Graphics Department for an Exhibit/Tradeshow company in Houston, and was the Graphic Designer at a t-shirt screen printing company."
What is your role at Integ now? Tell us about it.
"Prepress Manager. I oversee and direct the staff, the technology and production processes in the Prepress Department. We take customer files and prepare them for processing in our Heidelberg Prinect Workflow to create proofs and plates for printing on the press or for printing on our Digital printers."
What do you love about working for Integ?
"I like the environment; my co-worker's team attitude, the culture and goal of providing quality printing and great service. I like working with technology as it is always changing and improving, it is really exciting to discover new and better ways to process jobs."
What do you want Integ clients to know?
"I would like them to know that my years experienced in both the graphic design and print production side has built a strong foundation that I use to understand their creative vision and assure the printed products meet or exceeds their goals."
What do you enjoy doing outside of work?
"Believe it or not, most of my life I have been a Surfer. I started as a teenager on the Gulf Coast, lived in San Diego CA thru the 80s and 90s, and I still make a run to the coast when swell and wind conditions are just right. "
"The last couple of years, Central Texas has become the heart of inland surfing in North America with InLand Surf Park in Austin and now BSR Surf Resort right here in Waco! You can find me there on many occasions."
"I also like to hunt, and develop custom reloads for precision target shooting."
"And I always seem to have some long-term project like home remodeling, woodworking
or auto restoration."
Thank you, Wes, for your dedication to Integ's excellence, offering improvements, and being a part of what makes Integ the best print company in Central Texas & Brazos Valley.
What to learn more about Integ's print capabilities, check out our Print Solutions to learn more or contact us today!