Tis the season! While most of us are trying to enjoy the season in between the hectic schedules of Christmas with family and tidying up our end-of-the-year reports, Christmas cards are one way your corporation can reach your target audience and leave a lasting impression into the new year. Check out some of our favorite custom business Christmas cards created and produced here at Integ.
American Bank of Waco – Design by Tyson Charlson, Integ Art Director, Creative Vision by Dean Riley, Creative Director, Printed on Integ's HP Indigo, GPA's 110 # Starlight Photo Lustre, Envelope Cayenne Pepper Stardream
Baylor Scott & White Health Plan – Design by Partick Smith with BSW Health Plan, Printed on Integ's iGen4, 100# Stardream – Beargrass
Audience. An important question to consider when sending out any form of direct mail is – who is the message being delivered to? A select few donors or top spending customers? All reachable clients? Most of the time, an audience who would value receiving a custom business Christmas card would be a loyal one. A Christmas card is a great way to showcase appreciation for long-standing clients. With a little description, Integ's designers can transform simple concepts into masterpieces. More than likely, a creative designer can take an idea and pull out a beautiful piece that not only reflects your brand, but captures your clients.
Snow or Vintage Christmas Paper Stock? The next step in the process is selecting a stock of paper for your card. Choosing the right stock can really enhance a custom business Christmas card. Shiny reflective stocks create a premium look and feel. Integ's collection of stocks range from subtle shimmer, really bright, a vintage look, kraft stock, or even a wood card stock. The detailed selection of stock can accurately reflect a brand and it's customers.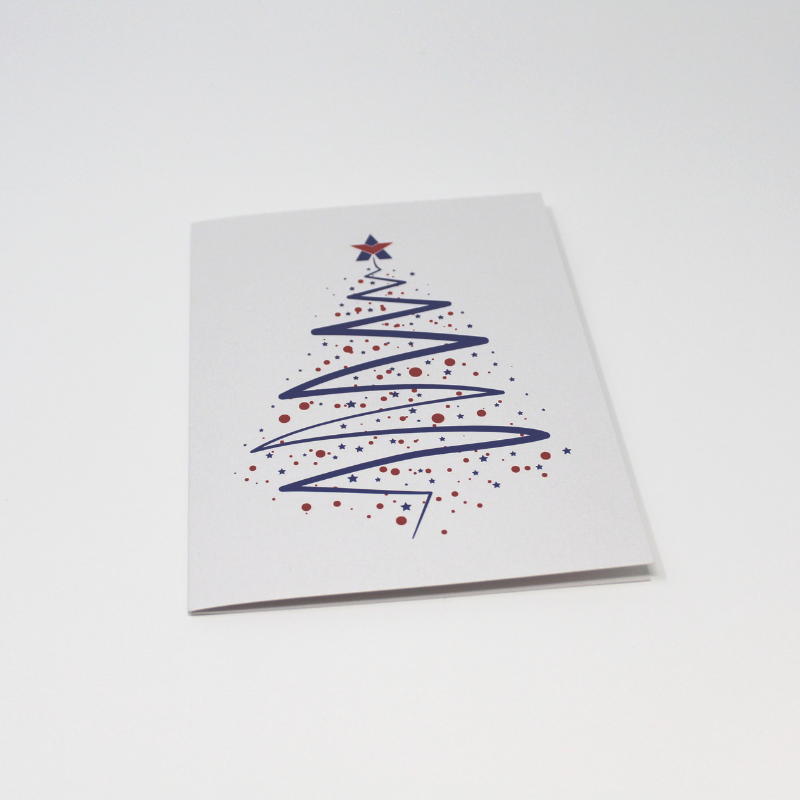 Design to Impress. When approaching a design for a Christmas card, the most important goal is to creatively stay true to a brand in order to spread appreciation through holiday cheer. Take the 2017 American Bank Christmas card, for example. (Pictured above) Integ's top designer chose to showcase the logo as the star on the Christmas tree, offering one of a kind design that creatively delivers a message while representing the brand well.
Add Value by Personalizing. Variable printing can be a great option if the client desires to make a bold statement. A client is more likely to keep a Christmas card if it is personalized with their name or company name. Integ's design and prepress team work together to add variable print options for every client and every project.
Embellishments please. Emboss, debossing, spot varnish, white ink, and clear ink: Integ does it all.
The envelope. Speaking of envelopes, did you know USPS has a specific request with first-class presort or stamp mailings? Depending on your needs and budget, Integ's bulk mailing house awards our customers to option to send mail at a cheaper rate than mailing them yourself. With this option, be aware that you may need to use an envelope that's lighter in color to make sure the USPS system can read the bars that come with first-class presort. If you are looking to send First Class with a Christmas Stamp, we got you covered! Our fulfillment department can hand insert each Christmas card with a Christmas stamp of your choice just as if you hand stamped them yourself.
Spread the Cheer. After you choose Integ to create Christmas cards, you'll see why our customers come to us every year to brighten their clients day and beautifully impress their brand and appreciation to the best part of their business, their customers. Share your card on social media and tag Integ!
Take the pressure off! Create and mail your custom Christmas cards with Integ. Where your project stays under one roof the from design to the mail stream, we take care of it all. Reach out to us today to get started or to get a quote!