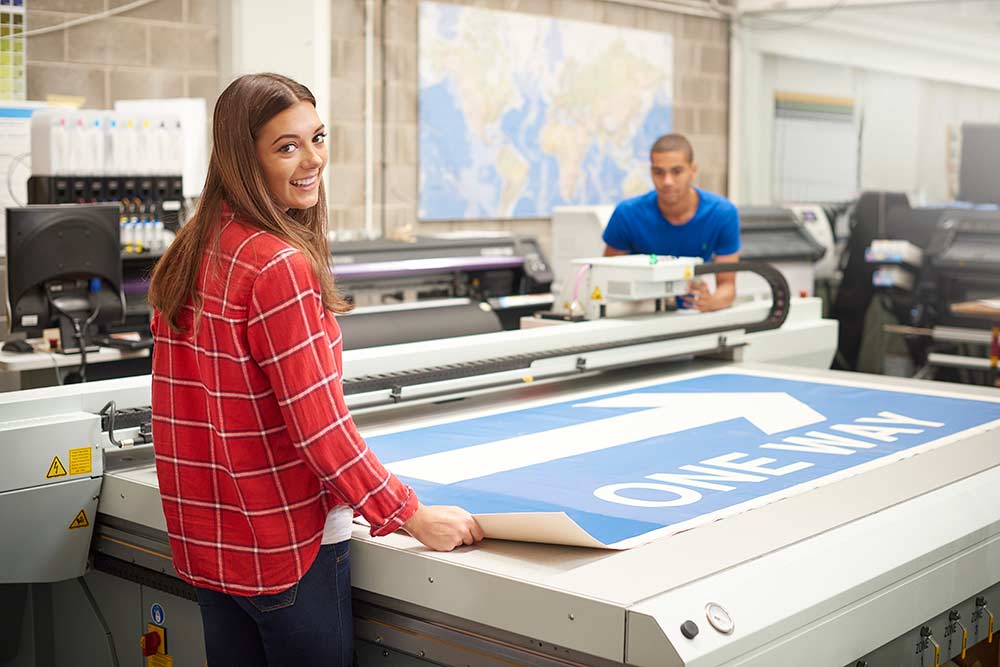 An Environmental Graphic is a visual communication design that helps connect people to places. When looking to create a specific kind of environment by evoking a feeling of excitement, motivation or inspiration, offer direction or even help customers identify with you, environmental graphics can foster a connection that only you can make at that time and place.
Environmental Graphics include but aren't limited to:
Banners – Pole Banners, Vinyl Banners, Wind Mesh Banners and Retractable Banners

Uses: Exhibits, storefronts, advertisements, events, tradeshows, branding

Mounted signage – Max-Metal Signs, ultra board signs, directional, advertisement or informative.

Uses: Directional, bathroom, office labels, events, outdoor sponsorships, events, yard signs.

Architectural graphics- Wall decals, wall wraps, floor graphics, canvas print art, window graphics or posters.

Uses: University logos, retail stores, office environments, zoos, athletic events.
What makes an Environmental Graphic Effective?
The importance in creating an inviting and relatable environment is to gain the chance to make a connection with potential clients and customers. Integ considers it an honor to guide each of our customers through the process of creating and transforming environments that foster growth for customers. Whether you are a healthcare provider with a need for branding and directional signage throughout your facilities or an educational institution that longs to create an environment that attracts future students by allowing them to feel a part of your university family, Integ is the right fit for you.
Office or Retail Environments
Brick and mortar environments often overlook the importance in high-quality graphics. As customers or clients walk into your store or to their appointment, you have an opportunity to make a first impression. Integ Does help you create an environment that generates excitement to be apart of your organization or support your business.
Tradeshows
Make a statement at your next tradeshow with retractable banners and print material that will blow your competition out of the water. Integ Does unique, unforgettable design with an incredible creative team ready to take your dream and make it a reality.
Next Steps
Integ is ready to partner with you and help you connect with your future and current customers. If you'd like a free consultation on how your location(s) can best utilize environment graphics, fill out the form below. We are happy to help you get started today.
 October 31st, 2017