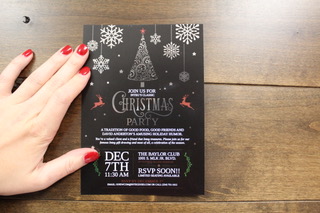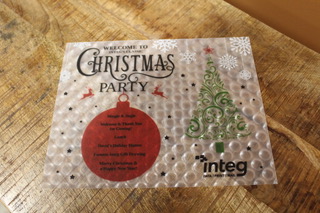 Background:
Integ's Client Christmas Party is an event most of our customers thoroughly enjoy each year! We give out fun gifts and David Anderton, Integ's CEO, shares timeless humor that you just can't help but laugh at. This year we showcased our new printing capabilities mirror paper and hologram material with the addition of our Bryan location and the HP Indigo.
Project (s):
Our mirror paper invitations were designed in-house and printed on GPA's 4Mil Silver Metallic Film by Folex which caught the attention of our customers utilizing white ink technology to showcase the newest print capabilities at Integ.
When customers sat down at their table for lunch, they were greeted with a unique hologram program printed on GPA's 20 Mil Azuna 3D Standard Bubble Pattern film.
This program caught so much attention, our customers are now requesting this for invitations and print pieces they need to make a huge statement.
Conclusion:
You can count on Integ to stay ahead of the curve as digital technology continues to evolve. When it comes to our clients, we make sure you get the best value while still delivering the highest quality.
Are you looking to make big statement or grab attention from your customers? Contact us today to see how we can help make your next event a success! We handle everything from design, print, wide format (environmental graphics) to mailing your invitations and follow-ups.